"Nothing makes a woman more beautiful than the belief that she is beautiful." Sophia Loren
I can't help but take Sophia Loren's quote to heart this month. As I have been challenged with embracing my own beauty perspective. Be Beautiful now is the mantra I choose to live by and the message I feel so passionate about sharing with the world.
However, I also know how challenging it can be at times to feel that way about ourselves and to keep ourselves in that enlightened state of mind.
When reflecting on Sophia Loren's quote I could easily say, "Well, that is easy for her to say because she is a timeless beauty!"
However, it reminds me of 'what came first, the chicken or the egg?'
Clearly, Sophia Loren is still so beautiful! So, has her deep belief in the importance of nurturing her inner well-being helped her in maintaining and radiating her beauty? I believe "Yes!" At 79 years old, I do believe she is still so radiant because she truly practices what she preaches and if she, and you, and I don't believe we radiate our own unique beauty, than who will?
What I have been so graciously reminded of this month, while I was undergoing a not-so-glamorous procedure, is that beauty is really all about perspective.
It is the choice and belief we decide to have around our present beauty.
Sometimes, we deny our beauty and find fault with it, causing us to feel upset because we are not satisfied. Believe me, I have and continue to be challenged in those moments of low self-esteem and disapproval.
When those moments present themselves, I do all I can to wake myself up from the negative state-of-mind my ego likes to keep me in. I remind myself that within our human forms and in our physical bodies, which are really nothing more than outer shells that carry our infinitely beautiful, unique, selves.
We can always find something that isn't perfect.
We live in an imperfect world where if we are not careful, we can always be striving for perfection and beauty defined by outside sources that do not reflect true reality. At times, our ego tries to keep us in a state of unhappiness by turning up its not-so-comforting voice, trying to remind us of what we are trying to overcome.
This is when it comes down to perspective and choice.
In reality, what we dislike about our flaws may be the very traits that others find beautiful. This is where an 'attitude of gratitude' and your perspective come into full practice. I know I needed to look deep within this month to remind myself, center myself, and shift my beauty perspective. I practiced EFT, guided meditation, took a bubble bath, journaled, watched funny movies, whatever it took to shift my perspective whenever I looked in a mirror or felt discomfort.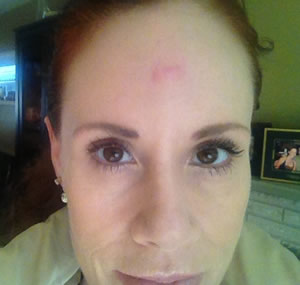 At a physical and cellular level, I nurtured my surgery incision and treated it with tender, loving care to activate the healing at a cellular level. I said positive affirmations and reminded myself about the blessings in the present moment: the growth on my forehead was not cancerous; I didn't have to go into financial debt to have it removed; I can still see and hear; and the list went on…
I made the conscious choice to shift the vibration of my beauty perspective every time fear and disapproval popped up.
The next time an obstacle stops you from connecting to your truly divine, unique, beautiful self, whether it is: the removal of a growth on your forehead, to any other personal matter that is getting the best of you, bad hair day, monthly breakout, puffy eyes, extra weight, whatever the culprit is that happens to be taking you out of alignment.
Remember you always have a choice.
You can allow some imperfection to stand in your way, or you can embrace it and choose to know that you are already uniquely, beautiful and some imperfection doesn't have the power to define you.
It is always a choice to feel and be beautiful now, and that is what I choose regardless of the bump, stitches and scar. At the end of the day I focus on what I do have, the beauty that is always around me, and the unique attributes (even if they may be flaws) that make me, me.
So, what do you choose?
Be Beautiful Now,
Melissa
Read below to see what Sophia chooses…
Loren continues to see the world as a place full of beauty: "I always wake up early and jump out of bed—sometimes not wanting to, because one can always find an alibi not to exercise—and then I take a walk for an hour. And as I walk round the park I always think, 'Maybe round the corner I am going to find something beautiful.' I always think positively. It is very rare that you find me in a mood that is sad or melancholic."
I just love Sophia Loren, and her attitude about life is so inspiring to me. She too had to make a lot of positive beauty choices growing up in poverty as an illegitimate child amongst mites and lice. Often there wasn't any food in her household and she was teased and referred to as "toothpick" because she was so skinny. She sure didn't let any of that stop her from radiating in her greatness.
Have you made any recent beauty choices that you would like to share? Comment below, I'd love to hear from you!